In this article you will find:
"Privacy and Security is in our DNA"
This is the quote with which WhatsApp starts its Security section on its website; On this site, the characteristics of personal and business messages and payments are specified, all with the aim of understanding how secure WhatsApp is.
If you still do not recognize the magnitude and importance of this instant messaging application, surely these figures will convince you. The figures show not only stats that make you trust the app's security, but also to start rethinking your marketing strategies with the aim of using them, for the benefit and growth of your company.
According to data presented in the latest report by Hootsuite and We Are Social:
Currently, WhatsApp has more than 2,000 million users and it is expected that by 2027, it will exceed 3,000 million.
Since January 2021, the instant messaging application has grown by 4% in its number of daily users.
The app was downloaded in the last quarter of 2021, a total of 4.5 million times.
Compared to Facebook Messenger and WeChat, WhatsApp has 700 million more monthly users.
Through this app, more than 100,000 million messages are sent every day.
We are ready! You already know the importance of WhatsApp and now we are going to explain everything about how safe it is.
How safe is whatsapp?
In order to answer your question about how secure WhatsApp is, this application has divided its security website into three main sections, these are:
Personal messages
Send messages to business
Payments
Personal messages
If your doubts are based on asking yourself if WhatsApp is safe and private, the short answer is yes. This instant messaging application has end-to-end encryption, as long as the message is sent between personal accounts.
Send messages to business
WhatsApp Business is a free download app that was created with the aim that small and medium-sized businesses could contact their customers directly and effectively. This version of the app that also allows you to organize, automate and respond to messages more quickly, has the same encryption protocol that protects the messages that are sent between personal accounts.
It should be noted that when a text, image or other is sent to a business account, it is delivered safely. However, the privacy protocols used by said company with the messages it receives are not the responsibility of the application.
Payments
this function, which is available only in selected countries, allows users to make transfers and payments between accounts of financial institutions. The security of this service lies in the fact that the card and bank account numbers are stored encrypted in a network with a high level of security.
It is important that you know that the payments aren't end-to-end encrypted because the financial institutions need to receive the information of the transactions that are carried out.
What is the end-to-end encrypted system?
Your doubts about whether WhatsApp is secure, has a very clear answer, yes, this is thanks to the fact that having end-to-end encryption as security prevents third parties from having access to the data that is sent from one device to another.
End-to-end encryption works in a very simple way. The data to be sent is encrypted on the sender's device and only the recipient can decrypt it.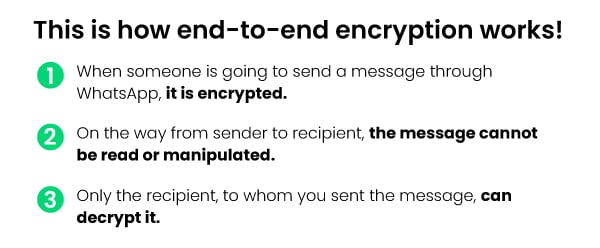 Can you get hacked through WhatsApp?
Being an instant messaging app that uses end-to-end encryption, the answer to this question is no. It is not possible to hack WhatsApp messages, since these, being encrypted, cannot be read or manipulated while they reach the recipient.
However, it is important to remember that the conversations are stored on the device and backed up on the server, which means that if you lose your phone, whoever finds it will be able to access your messages.
If after learning from this article that WhatsApp is safe, you want to start building personalized chats in this app for your company, at Truora we have the perfect solution for you to do so and boost the growth of your company with Truconnect. With Truconnect you can:
Verify the identity of users.
Improve your conversion rates.
Reduce your response times.
What are you waiting for? WhatsApp is secure and is the perfect way to automate your conversation flows according to the needs of your company, and without the need to use code.