In this article you will find:
At Truora we have seen how other companies have to sacrifice growth and user experience for security, to provide some solutions to this dilemma from my experience as Chief Product Officer at Truora, a few weeks ago I was an exhibitor for America Digital Mexico.
At the event I shared with representatives of the Fintech, Retail, and Marketplaces industries, 4 super important points about how companies face day-to-day their onboarding and user acquisition processes, and what is the best strategy to grow the company, from the stories we have lived in Truora.
A bad User Onboarding strategy causes a huge negative impact on the customer relationship from the very beginning.
To be clear about the impact of a bad onboarding strategy, we can start with the fact that all companies spend large sums of money on marketing campaigns to attract customers.
On average, the cost of acquiring a single user ranges from $5USD to $13USD, in the best-case scenario, since the cost will depend on the effectiveness of the campaigns.
However, when they do, 63% of customers abandon the onboarding process, especially in financial services.
Do the math and ask yourself, how much does your company invest annually to increase customers? Surely quite a lot of budget, as in proptech, retail and fintech industries the sums are usually very large.
Now compare that value with the return on investment you get.
Is the result astonishingly positive?

If the answer is yes, all of us here want to get your advice.

If the answer is no, I can assure you that you owe a lot of that to your current user onboarding process.
63% of customers abandon the User Onbaording process, especially in financial services, out of frustration.
Research shows that there are more than 80 apps installed on an average smartphone.
Even, a common user can have more than one screen in use while performing a process. In other words, our potential user can easily be watching Netflix, while trying to register on our platform to make a purchase or request a service.
Well, that is the user we are facing today, one that seeks to do everything quickly, efficiently and instantly.
Their time is money and they are looking for immediate, simple and personalized answers from the companies they choose. And that, is where most companies fail.
When we talk about fintech, proptech and retailers, onboarding becomes the first big step a user takes within the company and therefore, their experience should be:
If you currently believe that onboarding in your company is not a "FAST" process, don't worry, in a large percentage of cases it is the opposite: Complicated, manual, slow and confusing for users.
It is necessary to revolutionize User Onboarding to grow as a platform or application and increase user acquisition rates.
The scenario is clear, evolving is no longer enough, it is necessary to revolutionize, so I will share some key points that every onboarding process must take into account:
Avoid long processes: ask in the "onboarding" only for what is indispensable.

Do not use long forms, if you need to capture a lot of data, try to do it after the registration and in a subtle way.

Provide clear instructions that show response time.

Assume that your user will make mistakes and will not read, including visual resources and short messages.

If you need to perform validations, reach your user in the channel that is easiest for them. Always with the option to redirect if necessary.

Consider: is it important for me to check everything in real-time, or are there things I can validate later?

WhatsApp is the key answer to simplifying Onboarding and delivering a high-level user experience.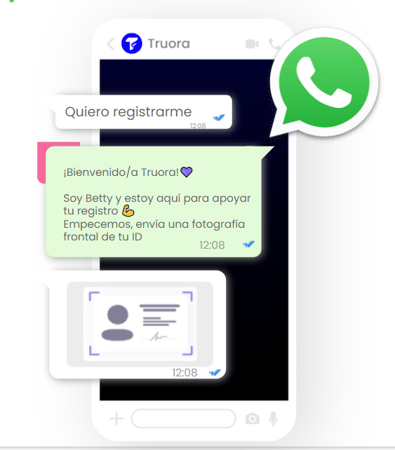 This is the best part, for example; if being a Fintech you needed to have teams of call centers, online advisors, or great coverage in branches so that your users could open a bank account, with Truora and WhatsApp all that goes to the background, because each of your users can write to a WhatsApp line and in a 100% automated way, open a bank account, apply for a loan or purchase a particular product without leaving their home.
In addition, you will not have to worry about identity verification because, using simple conversation flows you can validate their information, credit history, and legal and criminal records on more than 2000 bases globally, request all documents through WhatsApp, perform facial recognition with a photo or proof of life with a simple video and even collect their signature electronically from their cell phone and in minutes. Impressive right?
We turn the most used app in the world into your direct channel with the customers you want to attract, literally a WhatsApp away